About Custom Fibre Optics
At Custom Fibre Optics we are passionate about decorative lighting. We use innovative and inspiring designs to create high end, bespoke lighting features. Not only do we design lighting features in the hospitality and leisure industry but in residential and even outdoors too.
We love to have a blank canvas to use our own ideas however we enjoy working together with clients, architects and designers to create products with their own ideas, requirements and specifications. We're always researching and getting to know new technology and quality materials to continue to inspire people and show the stunning effects which can be achieved with a bit of imagination and keen eye for lighting design.
"I can't recommend Custom Fibre Optics enough. Stevie designed a beautiful night sky effect ceiling for our baby's room and the results are spectacular. I expected that having the work carried out when I was almost six months pregnant might be stressful, but the professional approach of the company ensured that the work was carried out quickly and at a time to suit our working hours. Stevie and his team were very respectful of our home, and our baby's room was left clean, tidy and with a feature which is truly unique! Mrs Love, Gosforth"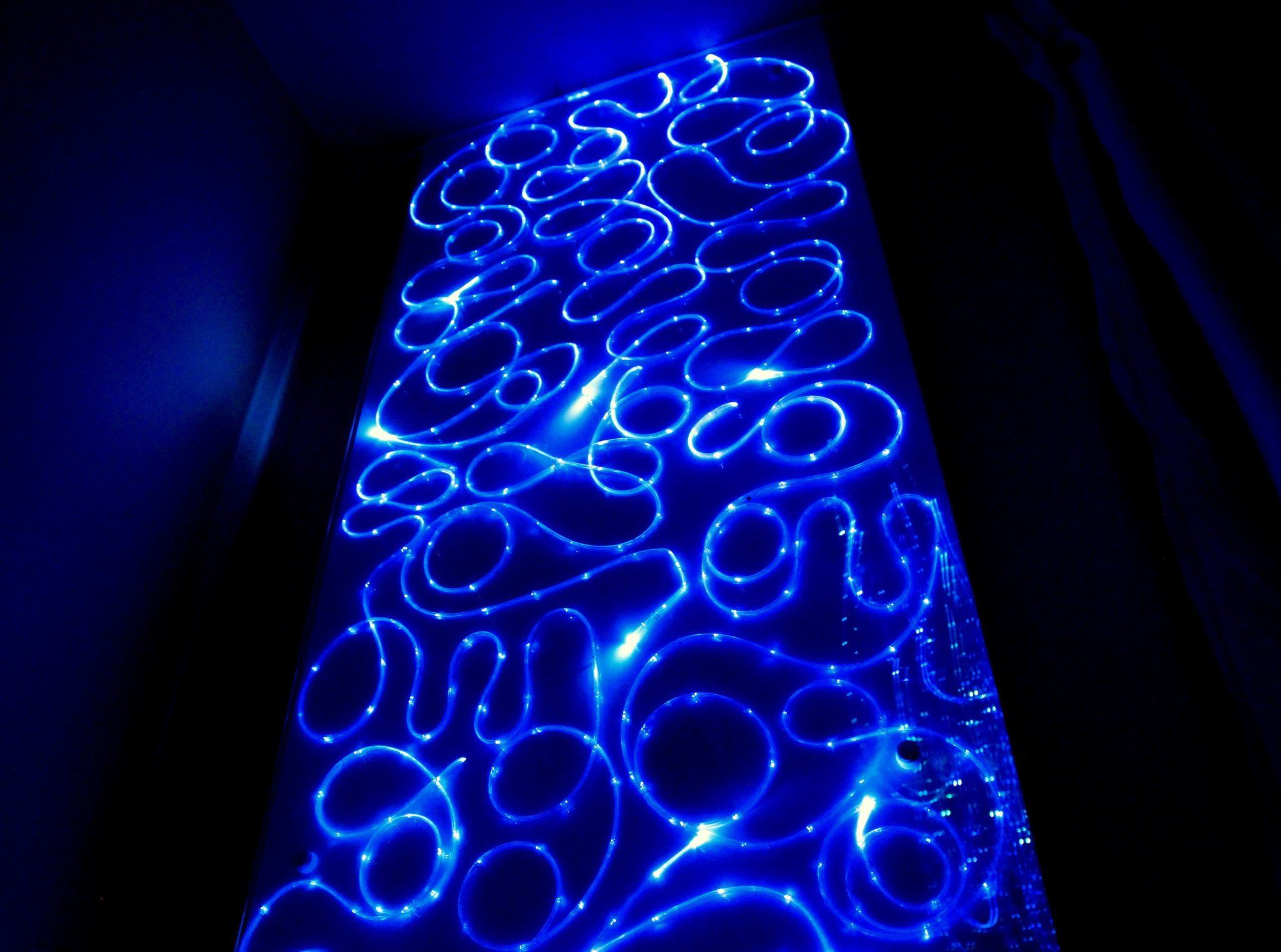 Some of the projects and products we specialise in include:
Chandeliers
Starry ceilings and panels
Lighting for tiling, stone, paving and decking installations
Custom built features for the home including kitchens, bathrooms and home cinema installations
Abstract lighting features for the commercial industry
Bespoke led and fibre optic designs for the sign industry
Sensory lighting equipment and installations
Log cabin, gazebo, caravan and motorhome installations
Bespoke fibre optic carpet runners
lighting hire
If there's something we haven't mentioned, or if you'd like some friendly advice, to work together on a project or to ask us for more information on our products then please feel free to contact us to discuss your thoughts and ideas.
With your ideas and our knowledge of fibre optic and led design you can trust us to create a stunning lighting feature with that real WOW factor.
Please take a look through our forever growing list of photos and videos of our products and installations. You can also find more photos, videos and current projects on our Facebook and instagram page and our YouTube channel.
Contact us
Tel – 01914207960 – Mob – 07584073106 – Email –customfibreoptics@live.co.uk
Address – Unit A8, Stonehills industrial estate, Gateshead NE10 0HW
Catch up with us on Facebook
for our latest projects…..